The fall is still a great time to swim. Not only is the exercise great, but extending the swimming season is great fun and a great use of your pool investment.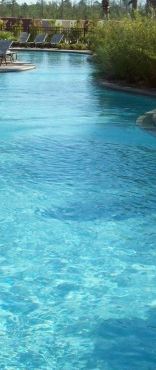 Some climates have it easier than others when it comes to fall swimming. For those of you with pools in the southern climates such as Texas, Florida, Arizona, New Mexico, Southern California and even homes in Nevada, Louisiana and Mississippi, you may not need to heat your pool at all as late as early October.
For others in the north, the evenings are already starting to dip down into the teens and the pool may soon need the heater.
Most pool heaters are gas or propane heaters. Keeping the temperature at a comfortable level encourages bathers to use the pool, especially in the evenings and on weekends.
Southern pools stay open year round, although they are not used much in the winter months either, but northern pools will need to go through the process of a "pool closing".
This involves blowing out all the lines and extending a pool safety cover over the entire pool. The water table is lowered, but the pool is not emptied.
A local pool company can help with the closing to assure no components freeze over the winter.
But it is only the beginning of fall, so meanwhile get more mileage from your pool and enjoy swimming in the fall!
Recent Posts
FROG - Natural Water Solutions for Your PoolPools are wonderful, but require maintenance to keep the …

Spend More Time Swimming and Less Time Cleaning Your PoolWhenever you see pools in magazines, they a …

The fall is still a great time to swim. Not only is the exercise great, but extending the swim …