Above Ground vs In Ground Pools
Above Ground Vs. In-ground Pools – Which is Right For Your Lifestyle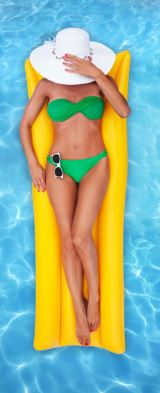 Pools are a wonderful accessory to any backyard. They offer benefits – like exercise, a place to socialize, to float and to cool down. The choice of whether to get an above ground vs. in-ground pool will depend on your preferences and these factors:
Budget
Obviously, the cost of building an in-ground pool will run much higher than an above-ground pool. Some people may add a deck or railings to an above ground pool, but generally just put up the pool as-is and enter with a ladder.
An above-ground pool could serve as a testing ground for a year or two in order to see how much everyone uses it –before committing to building a pool in the ground. Good quality above-ground pools usually cost $1,700+. However, above ground pools are not safe for diving and add little or no value to your home.
If you have a larger budget, you can consider an in-ground pool. For in-ground swimming pools, there are several options that will affect the final price point. The most popular type of in-ground pool is concrete, but vinyl and fiberglass are also options. Concrete pools can be shotcrete or gunite. Gunite pools give you more options for shape (almost unlimited) and you can choose from several colors. Ceramic tiles are often added around the top rim, which looks decorative but adds to the cost. A less expensive option is a vinyl pool – which generally comes in a pre-packaged pool kit.
There are fewer options for shape, but the vinyl liners can be purchased in many different colors and patterns. Contact us for a quote on an in-ground vinyl liner.
In-ground pool prices tend to run $20,000+, but can really escalate once you add in water features (slides, waterfalls, fountains, diving boards, rock formations) and landscaping to go around the pool.
In addition to the cost of building the pool, keep in mind the costs to keep it running. You will need to buy water chemicals, filters and cleaning supplies. You will also spend money on electricity or gas to heat the pool, run the filter and to keep the water features going. You will also spend more on water to keep the pool filled.
If you live in a climate where the ground freezes in winter, then you will also have winterizing costs to open the pool in the spring and close it again in the fall.
Time
If you want to get a pool so you can cool off in a hurry, then above ground is the way to go. You can order an above-ground pool online at pool spa outpost and have it delivered right to your door. The pool comes in a kit that takes a couple of days to install.
A built-in pool can take weeks to install. In areas where there is a lot of limestone – like Texas – digging out the pool can be quite the project. Vinyl pools can generally be built quicker than concrete ones.
The quickest in-ground option is a fiberglass pool – which is a pre-formed pool (like a big bathtub) that is stuck into the prepared hold in the ground. Fiberglass pools are available in several shapes and sizes, can be built in as little as a week, but can be a very expensive option.
Location
If you live in a climate that tends to be warm most of the year, then you will get more usage out of your pool investment. It can also add value to your home as most people want pools where the weather is hot. The climate also allows you to create a more tropical look by adding palm trees or exotic plants to the landscape. You will also enjoy more time sitting out next to it when you don't have cold winters.
In northern climates, you will need to close the pool for the winter. If you have an above ground pool, you will want to dismantle and store it over the winter, and then set it up again in the spring.
Permanency
An above ground pool can easily be removed should you decide you no longer want a pool. It can also be dismantled and moved. An in-ground pool tends to add value to a home, although not everyone wants a home with a pool. Should you ever decide you don't want your in-ground pool anymore, you would have to fill it in and landscape over it, or move.
Space
You will need to take the size and shape of your backyard into consideration when choosing a swimming pool. It is wise to seek professional advice to learn your options. The correct placement also needs to be considered. You will want to take into account the grading, the path the sun travels over the yard, trees that need to be removed, fences that need to be built, housing code requirements, etc.
Other Options
One option that is becoming increasingly popular is the swim spa. Similar to fiberglass pools, these are pre-formed and just need to be put in the ground. However, unlike fiberglass pools, they also feature a hot tub area with seating and massage jets. Swim spas can be heated or kept cool. Most have a swim jet so you can swim against the current, making even smaller versions a good option for avid swimmers.
So what do the majority of other Americans own? According to a recent census, 5,061,000 people had in-ground pools. Above-ground pool owners totaled 3,531,000. In both cases, the top state for pool ownership was California, followed by Florida and then Arizona. Californian must love water – they were also the top state for hot tubs!
Whether you need equipment, parts and supplies for your above ground pool or in ground swimming pool, Pool Spa Outpost has got you covered.