QCA Spas Mystic 4 Person Hot Tub 120V MysticSpaQCA
SKU:

MysticSpaQCA

UPC:

Shipping:

Free Shipping
Description
QCA Spas Mystic Hot Tub Spa.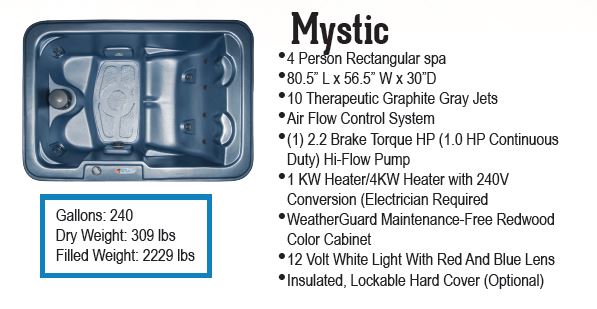 This four person hot tub operates at either 120 volts as a plug and play spa, or at 240 volts which transforms the heater from 1kw to 4kw.
A convertible, plug-and-play hot tub, the Mystic allows you to enjoy the spa with the included GFCI power cord and a 120 volt power outlet. Simply fill with water and enjoy!
If you thought you couldn't afford a real spa – think again!
QCA Spas, one of the oldest spa manufacturers in the U.S.A, since 1966, builds the Dream Series spas at affordable prices.
The impressive Mystic hot tub spa is perfect for up to four people with 2 bucket seats, 2 bench seats and all quality components.
The Mystic Spa will mystify you with its therapeutic features at such a low price!
The Mystic Spa comes ozone ready– we recommend an ozonator to cut down on chemicals and maintenance. The Mystic spa ships free anywhere in the USA with the Hot Tub Outpost.

How to Order a Mystic Hot Tub Factory Direct Online

Select your shell color

The color choices for the Mystic 120v plug and play hot tub are either silver marble or blue denim.



Color Choice: Silver Marble or Blue Denim

Select your shell color in the box above.

Then select from a Redwood standard cabinet color or either Chestnut or Gray cabinet.

Add accessories such as an ozonator to help keep the water clean and safe.

Add LED light instead of standard white light.

Choose standard jet style or stainless steel.

Choose cover color to match cabinet (brown or gray).

Click add to cart and your spa will be on the way with Free Shipping!

Sterling Silver Marble is our most popular color. It is a very light color with designer streaks and a marble style. The surface is smooth and the ABS backed acrylic by Lucite is weather resistant and makes the perfect high quality shell material for a hot tub.

The color is shown on a larger hot tub on the left for illustration purposes. This also confirms that just because the Mystic is a plug and play 110-120v hot tub does not mean that there is any scrimping when it comes to using high quality materials. The spa shell material is exactly the same extra thick Lucite ABS backed acrylic as used in the very high end spas.

Blue Denim is also a very popular color with a blue slighly speckled look. Unlike the silver marble, this material is slightly rougher to the touch and is textured. Although both color types are extremely durable, it is a matter of personal preference whether to go with the marble traditional hot tub shell material that is smooth or the Quarite type of material that is textured. Both are comfortable and it is mainly a visual decision whether to go with a white/silver type marble or blue textured material.

Quick ship version of this spa (blue shell color, redwood color cabinet, ozonator option selected) ships within 7 days. Custom versions of the spa may take 3 weeks to produce. Contact us with questions.
View All
Close
Warranty Information
Original Factory Warranty - 1 Year Parts - 90 Days Labor
View All
Close