Hot Tub Cover CUSTOM Any Size CUSTOMCOVER-Q
SKU:

CUSTOMCOVER-Q

UPC:

Availability:

Order Covers at www.HotTubOutpost.com
Description
This item had been discontinued.
SAVE by ordering any hot tub cover at Hot Tub Outpost.
Order any replacement hot tub cover for your spa - all makes and models. Free Shipping on this spa cover anywhere in the continental USA.
How to Order: Easy as 1-2-3-4
1. Select Color from color selection.

Add the following information in the "dimensions" text box under where you select your color.
2. Add Measurements - length and width (in inches) - shape: square or rectangular. If round or custom shaped, add diameter or other measurements. You can always send a picture/drawing to info@poolspaoutpost.com for odd-shaped covers or those with speakers portruding into the cover. Most covers are either square or round with or without rounded corners.
(don't worry, if we are missing any information about the measurements Pool Spa Outpost will contact you by email for clarification before making your cover)
3. Corner Radius if Rounded Corners - If your cover has round covers instead of square corners, see below for how to measure the corner radius. Provide the corner radius measurement in inches.
(If you include the Spa Manufacturer and Model/Type we can double check your measurement with our database and will contact you to clarify if needed)
4. Skirt Length - Provide skirt length in inches = length of flap that hangs down around the side of the cover - (usually around 4 inches long)
Bonus: Enter Spa Manufacturer and Model if you know this information - we can double check your measurements if you add spa make and model with our huge cover database to assure a great fitting cover.


Hot Tub Cover Features:
Our custom made spa cover based on your own measurements is made of high quality vinyl materials. We also offer oversized and freeform spa covers.
4" - 2" Tapered Foam Inserts
Four Tie Downs with Child Proof Locks
Reinforced Galvanized Channeling For Support
Two Steam Stoppers
Top Stitched for Added Strength & Quality
Two Handles
Available in 14 Colors (select color by dropdown menu above)
R-Value of 13-15
Energy Efficient Polystyrene Inserts
Heat Sealed Poly Vapor Moisture Barrier
Unlike cheap covers on the market, this cover also includes inhibitors in both the vinyl and thread to prevent premature aging of your spa cover.
Spa Cover Color
Standard cover colors above are Brown, Gray, Light Gray and Charcoal. Select your standard cover color in the dropdown menu above.
Want a different color from our expanded color selection below? Email us at info@hottuboutpost.com for current custom color quote.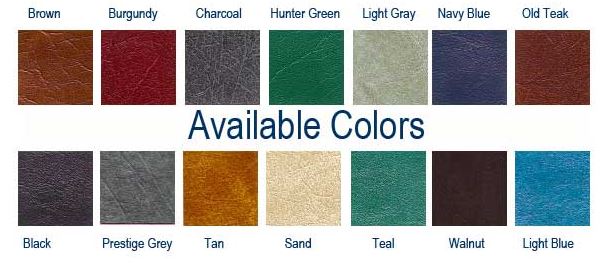 When you order a custom cover, we will be in touch with you by email to confirm your dimensions so we get the cover right and also assist you in case any additional measurements are needed.
Insert your cover's measurements above to get us started. We will contact you by email to confirm the dimensions and anything else we need prior to producing your cover to assure your satisfaction.
Measurements you will need depending on your style of cover.
Popular Cover Styles
Square or Rectangular Cover = L x W (these are simple, just provide length and width)
Square or Rectangular Cover with cut corners = L x W x Cut Corner Dimensions (we will send you a drawing to confirm measurement for cut corner spa covers)
Covers with rounded corners = L x W x Radius Dimension (See below on how to measure radius - we will be in touch by email to confirm your corner radius measurement)
Round Cover (just need diameter)
Other custom cover types we ship:
Ellipse or taper = Must supply a template and/or specific make, year and model of spa
True Octagon = L x W x Dimension of one side
Off-set Octagon = L x W x Dimension of each side (8 total)
Six Sided = L x W x Dimension of each side (6 total)
For Covers with Rounded Corners: How to measure the radius
Method # 1 for measuring corner radius of covers with rounded corners (if you have square corners you don't need this):
To determine the radius of your cover's corners, take a sheet of paper and trace around one of the curved corners of the cover. You will get a curved line similar to those shown at the left. Remove the paper and complete the circle. You can do this freehand. Then measure across the middle of the circle you drew, and divide by 2.
Method # 2 to determine radius:
Another better way to measure the radius is by placing a carpenter's square on the outside of your spa. The distance (A) between the corner of the carpenter's square and the place where it touches the spa equals the radius of the curve (B).
Other Measurements to Add into the Dimensions Box above when ordering:
SKIRT LENGTH: This is the length of the flap that hangs down around all of the sides. It is usually about 4-5 inches long, but we will make it to whatever length you prefer or length of your existing cover's skirt length. Just add skirt length: x inches to the dimensions box above (under the color selector) when ordering.
Cover Types - This is for your reference - we will contact you for any missing or needed information prior to producing your cover. For rectangular covers, we will make the Fold across the short side unless you request differently.
These are some of the cover types we offer and the measurements that will be needed. Either include these measurements in the comment box while ordering, or you will be asked for it as we confirm the dimensions by email with you prior to producing your replacement spa cover.
Visit www.HotTubOutpost.com to order hot tub covers.
View All
Close